A month ago, I got certified PADI Open Water. It was an amazing experience that I never thought I would live. Indeed, before coming to do my internship in Panama Dive Center, I've always admired the people who dive and thus who have the opportunity to swim in the middle of the marine wildlife. But, since I didn't know any diver before, for me it was something unreal that you see only on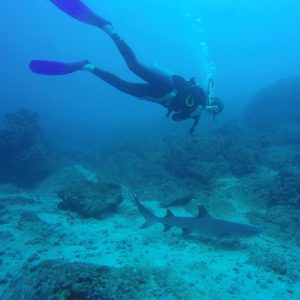 TV and that I would never do. I hadn't even thought about trying it! And one day I saw an advert for an internship at Panama Dive Center and I told myself, after all, why not? So I applied and surprisingly they hired me!
Of course, I had a few worries before starting my course. First of all, my grand parents being from a family of fishermen in the North of France, I have been raised with the idea that the ocean can be dangerous and one should always be careful. Moreover, when I was younger, I have always been afraid to find myself in a space as huge as the ocean. And finally I get seasick pretty easily…
For seasickness, the problem was quickly solved thanks to dramamine pills. And for the rest, I decided not to think about it and once under water, all those fears disapeared! And it was an awesome experience. Of course, I had to start with exercices under water, like taking off my mask and put it back which was not the easiest but the sensation to be able to breath under water and stay on the bottom in the middle of all the marine wildlife was exceptional! And I am now addicted to it and it's with pleasure that I go diving every week in the beautiful Coiba National Park!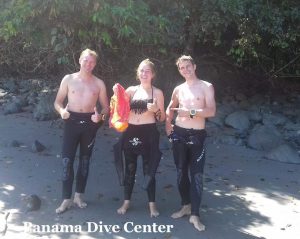 Thank you to my great instuctor Sofie and all the team of Panama Dive Center for making it possible!
As a conclusion, I recommend to everybody to try diving, even those who like me, never really thought about it!
-By Adèle
https://panamadivecenter.com/wp-content/uploads/2017/11/PDC_Logo_Horizontal.png
0
0
Camilo
https://panamadivecenter.com/wp-content/uploads/2017/11/PDC_Logo_Horizontal.png
Camilo
2018-02-16 17:19:03
2018-02-16 17:23:42
My Open Water at PDC