Dive Sites of Coiba National Park
There are more than 32 marked dive sites in Coiba National Park. Below, you will find location and descriptions for some of our favorites. Hover over the dots to find out more about each site.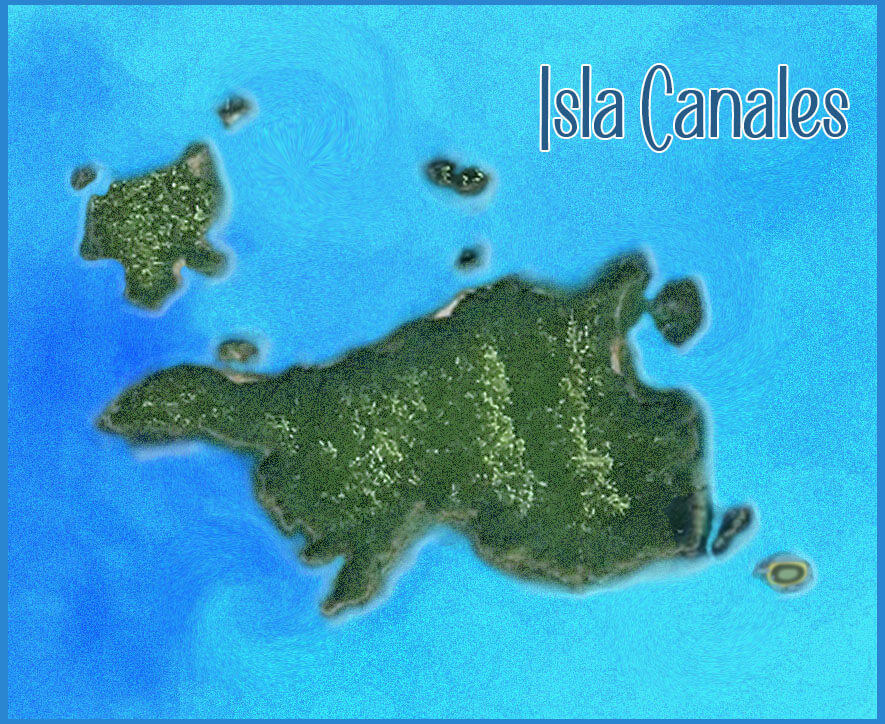 1
Wahoo Rock
From a geographical point of view, this diving spot could probably be called the "sister" of Buffet, since the two meet on the buoy line and merge into one another. The tip of the rock protrudes from the surface of the water, which makes orientation easy both on land and underwater. Here you will find shallower, sandy areas, but also deep, steep rock faces. I recommend that you always keep a good eye on your dive computer: before you know it, you can end up at 30 meters without even realizing. In Wahoo it is worth looking up and around you again and again, since plankton can often accumulate here, which then attracts the big stars to snack. Even without "the big ones", Wahoo, with its many reef fish, moray eels and turtles, is always worth a dive.
2
Buffet
The name says it all and that's why Buffet is one of the highlights of the Coiba National Park and one of our personal favorites. Along the buoy line one descends to about 12 meters, from where the reef begins and extends to a depth of about 28 meters. Along the various rock formations that make up the diving spot, you are almost guaranteed to see numerous sharks, which usually gather together in small groups and relax in the sand, many moray eels, shoals of barracudas and various types of jack. The last group of rocks in particular is simply a large playground for numerous different fish groups which gather here. There is no shortage of colors and shapes and if lucky, white-tip reef sharks and bluefin trevallies can be found hunting and causing mayhem among all the little fish. Mantas and whale sharks also sometimes like to make an appearance, which rounds off the fascination of Buffet perfectly. You will never get bored here!
3
Faro
Due to its exposed location at the western tip of Isla Canales, we often come across currents in this dive spot, which is why when this occurs, good condition of the divers is required. The special thing about Faro is that it has both, shallower areas at the ends that allow easy entry, and a wonderful reef that descends to depths of around 30 meters, which can be explored if the current allows it. Very often we find large schools of big eye jacks and groups of pacific dog snappers, and barracudas often come to check us out. Here and there a scorpion fish, octopus, seahorse and even frogfish can be spotted- until the current takes them to new hiding places. This diving spot is also popular with manta rays and whale sharks, who find the currents great and, if there is enough plankton, this becomes one of their favorite playgrounds.
4
Bajo Piñon
Like the all of Coiba National Park, this dive spot is always good for surprises and has become one of our favorites over time. Suitable for beginners as well as advanced divers, you can discover a wonderful variety of life between 6 and 22 meters. Due to the evenly distributed rock formations, there are as many different ways to dive this site as there are dive guides. You can see everything: from countless reef fish, moray eels, turtles, and sharks that decide to take a little siesta on the sandy bottom, to barracudas, schools of bigeye jacks and bluefin trevallies. Mantas and whale sharks also occasionally swim past in search for plankton – so don't fix your gaze to the reef; let it wander out into the blue as well and you may be rewarded with something spectacular.
5
Punta Deseo
Punta Deseo, which translates as "Wish Point", is increasingly living up to its name. We usually drop the anchor in the sandy area of the first part of the reef at about 6 to 7 meters. Uncertified divers such as DSDs or Open Water students can dive the shallow area of the reef, while everyone else can reach depths to up to 18 meters. On this dive you will surely meet a few sharks that have made themselves comfortable in the sand, turtles, who like to look for their meals here and who don't let us divers bother them in the slightest. To get to the second part of the reef, a long, flat sandy area has to be crossed to the rock formation, which extends to a depth of 22 meters. When the currents are favorable, plankton often accumulates here, which occasionally attracts whale sharks for a little snack.
6
La Lengua
This diving spot is suitable for both beginners and advanced divers. The sandy entry point, where we usually drop anchor, is around 4-5 meters deep, and you are then able to leisurely drop into deeper regions to up to 25 meters. Along the short steep wall, there are usually a few sharks that doze on the ground before the tip of the diving spot reveals a gently sloping plateau where among others, moray eels, turtles, snappers, scorpion fish can be found. The flat regions are usually lively and very colorful, due to the many reef fish that feel comfortable in La Lengua.
1
Mali Mali
According to legend, this dive site is named after a former inmate of the old prison they used to have on Coiba, who now works as a ranger of the national park. The usually protruding top of the reef is not visible when we arrive at high tide. As soon as the currents have been checked and the anchor lowered accordingly, the dive starts at a depth of 13 meters. The reef is actually an underwater mountain in shape of a triangle, so we can dive around it either clockwise or counter clockwise. Usually we are greeted by a couple of dozing sharks right at the beginning. Turtles also like to linger here for a midday snack. With a bit of luck, you can find frogfish or seahorses at depths between 7 and 20 meters and definitely a couple of moray eels and scorpion fish will be around. Snapper and jacks also come by often to pay a visit to the many reef fish. If the current and the other conditions allow it, it is also possible to explore a deeper reef, which goes down to about 28 meters depth.
2
Frijoles
In English `Frijoles´ means beans, and you can decide for yourself why the diving spot is called that. Once the anchor is in position, we descend along the line to about 10 meters. From there you can decide whether you want remain in the shallows along the reef or follow the gravel-covered sand bottom to the deep reef at over 25 meters. Large boulders that pile up underwater and form a complete, elongated reef, make the diving spot something special. There are lots of colorful reef fish playing with the surf,  schools of blue spotted and big eye jacks, and sometimes a group of barracudas comes by for a visit. Often you will come across a shark resting behind one of the boulders, and turtles munching on coral.
3
Isla Frijoles
As the name suggests, this diving spot has a lot in common with an island whose tip you can see from the boat. Depending on the current, the dive goes either clockwise or counterclockwise around the island along the sandy bottom. On your way you will definitely come across a few sharks that feel comfortable both in the shallow and in the deeper regions. The fish groupings of snappers, machetes and jacks feel most comfortable on the "back" and thus on the open ocean side of the island. Don't forget to keep a close eye on the reef as we sometimes find scorpionfish, frogfish and octopus here.
4
Iglesia 

Without wanting to promise too much: in Iglesia (Church) you can see one of Coiba's greatest biodiversity, especially if there is a little bit of current. If you don't want to / are not allowed to dive so deep, you can easily explore the area up to 12 meters. If you don't have a problem with depth, you can easily dive up to 30 meters – both are awesome experiences. Since the reef consists of numerous separate rock formations, which are connected by sandy areas, there are endless possibilities to make this dive. Both in shallower and deeper waters, Iglesia usually has a rather large number of reef sharks, turtles will cross your path here and there, and you will usually also find a few lobsters that stretch their antennas towards you. It is not uncommon for large schools of big eye jacks, snapper, machetes, spadefisch and barracudas to join. If that's not enough, with luck you can spot octopus, scorpion fish and frogfish and even seahorses – if the current allows, dive slow and look out for the little treasures.
5
Don Juan
For beginners or divers who are not yet super confident, this is the perfect place to find that dive feeling, since both long sides of the reef are characterized by a large sandy area, where there are no corals to break, and from where you have a spectacular view on a shallow, lively reef. One descends along this to a depth of only about 16 meters, and the variety and number of fish present make this diving spot definitely worth a try. Colourful snappers and an often extensive school of small bigeye jacks like to call this their home.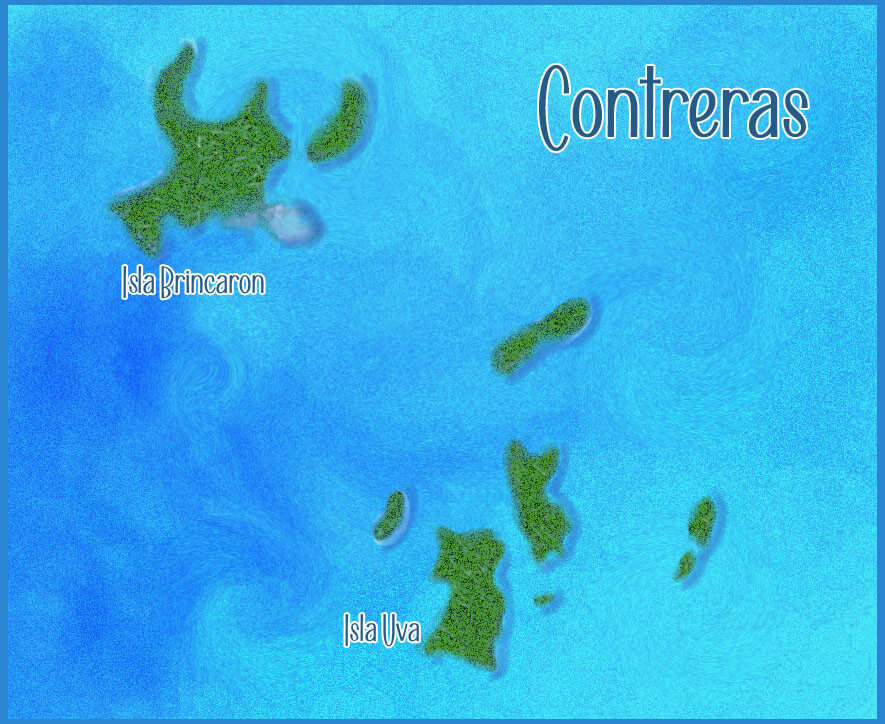 1
Montaña Rusa
From the surface, you can only guess where this dive site might be. Thanks to our capable captains (and admittedly: a well-adjusted GPS) we usually find the spot quite quickly though. First we lower the anchor, then we have to wait just a little to make sure that it has really grabbed – as soon as we are in the water we can shimmy down the rope towards the top of the reef at about 16 meters. From there, it drops in all directions to over 40 meters.  Carefully managing our air and no decompression time we descend to usually about 35 and wind our way back up. Due to the exposed location of the diving spot in the "open sea", strong currents can occur, so you shouldn't be squeamish about this and be in relatively good shape. Often, and especially when the current is a little stronger,  large groups of different fish species surprise us here. Hundreds of huge dog ​​snappers, massive schools of barracuda, tons of bigeye jacks and bluefin trevallies; almost anything is possible. At the right time of year, you might also encounter lots of longtail stingrays, and maybe even see a hammerhead shark. Yep, hammerheads!  It is also possible to see black-tip reef sharks or bull sharks scurrying past in the blue. So be attentive and let your eyes wander.
2
Sueño de Pescador
From a geographical point of view, this diving spot could be classified as the "twin" of Montaña Rusa, as they are in direct extension of each other and are also similar in topography. The top of the reef starts at around 13 meters, but then goes down just as deep all around. Here too, with a bit of luck, we can see large schools of fish. Different snapper and jacks are usually present, turtles like to swim by, and in the blue you can sometimes see different types of shark. The flora does not disappoint either, since different types of corals grow here, which we do not get to see in other parts of Coiba. Due to the exposed location of the diving spot in the "open sea", strong currents can occur, so you should be comfortable with currents with and be in good shape.
3
Sombrero de Pelo
A popular dive site among us dive guides. From a distance you can see a kind of mountain protruding from the water, which tells you where the dive will start. Following the anchor line, we dive to a depth of about 12 meters, and then follow the reef. We usually decided on site whether to swim left or right, depending on where the most fish can be seen. Here and there a white-tip reef shark swims by, around the next corner a turtle might already be waiting, and a little further up, next to the school of spadefish, a group of barracudas has just swam past, which is already mixing with the snappers back there. It can be like that here. If you come at the right time, with a bit of luck you might see a few small hammerheads who spend a short part of their lives here. The dive site is very diverse, as it leaves some leeway with crevices, plateaus and small alleys. Due to the exposed location of the diving spot in the "open sea", strong currents can occur, so you should be comfortable with that and be in good shape.
4
Bajo Ballena
This diving spot is reached the fastest on the Contreras archipelago. Depending on the conditions, we sometimes get to our destination after a 1.5 hour boat ride. Since there is no permanently installed buoy here either, we depend on the anchor. We usually start at a shallow point, and descend very slowly. The currents decide whether this happens clockwise or not. On one side we find a shallow plateau, along which moray eels protrude from the holes, scorpion fish hide and reef fish explore the area. Sharks doze off the daytime hours on the sandy bottom, while groups of snappers and jacks sometimes stir up the smaller fish. Since you don't have to dive deep, this site is often suitable to do the second or last dive of the day, so as not to push deco limits. Due to the exposed location of the diving spot in the "open sea", strong currents can occur, so you should be comfortable with that and be in good shape.
5
El Dedo
In the Contreras area and between the islands of Brincarón and Isla Uva, a small island has a sandy slope on its eastern side that leads to a reef full of gorgonians and coral gardens that have no equal in the park. "The Finger" is an elongated rocky structure that in its western part has a ring that resembles the shape of a fingernail, giving meaning to its name. The maximum depth of this site can be up to 40 meters and it is quite an extensive reef, so it is recommended that divers dive with enriched air.
6
Punta Peligro
A dive site with insane life and a huge structure that allows for a lot of exploration. You descend from a small bay in the western part of Isla Brincarón and descend along a rocky structure full of colorful coral gardens. At a depth of 30 meters there is a sandy area that extends for more than 20 meters, then falls to unexplored depths. Experience is recommended for divers, that it is done with enriched air and that they have experience diving with sharks, since it is sometimes possible to find quite curious blacktips as well as bull sharks on this dive.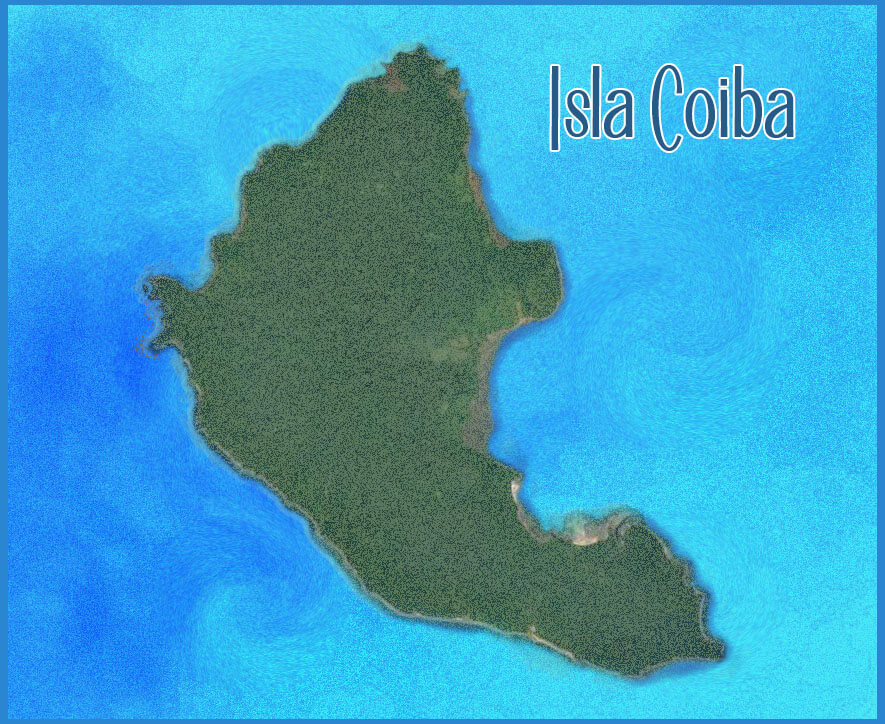 1
Picos Gemelos
To the north of Isla Coiba but in its western part, there are two rocky mounds at an approximate depth of 15 meters, one located to the west of the other and with similar characteristics. Between the two mounds there is generally a fairly calm current that allows some mantas or larger animals to make use of the kindness of smaller fish species that are responsible for cleaning them. At certain times of the year it is possible to find quite strong currents and the conditions may not be so favorable, which is why a high level of experience of the divers is required for this dive.
2
Escalera de Jacob
This site is named "Jacob´s Ladder" because in one of the walls of the highest mound, at a depth of 20 meters, you can see a kind of staircase carved in the rock. This rocky mound on the western side of Isla Coiba, almost halfway between the northernmost part of the island to Isla Jicarón. This is definitely a spectacular rocky structure that descends down to 60 meters with breaks at levels of every 10 or 15 meters. Due to its location, it requires favorable wind conditions to be able to arrive in our boats. It also requires divers with experience in currents, since we often encounter strong and unexpected currents here.