Hammerheads, night dives and Jicarón
Mid April 2017 we took some days off to go on a long planned staff trip to Coiba National Park. Two days of incredible diving at spots that are too far to reach on daytrips and one night on Coiba Island with delicious food, lots of beer, wine and good company were a well-deserved end of the high season in Panama.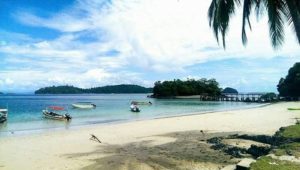 We left Santa Catalina on the 21st of April around 9am. But, as the ones of you who have dived with Panama Dive Center will remember, nobody leaves Catalina without having had his coffee in the morning. On two boats, Aracelli and Yuri, with our two captains Rubén and Eddie and the helping hands of our assistants Jorge and Solin, twelve enthusiastic divers took off to Coiba.
After a two-hour bumpy boat ride we arrived in Contreras, one of the most beautiful spots for diving in the national park, north of Coiba island. The dive sites Montaña Rusa and Sueño de Pescador are known to be full of life – big schools of snappers and jacks, frogfish and White tip reef sharks are seen frequently. Apart from spotted eagle rays and pelagic sting rays our favorite visitor, however, was a hammerhead, passing by at Sueño de Pescador, not noticing a bunch of amazed creatures with big tanks on their backs observing him.
On Coiba Island, after organizing rooms, a lovely lunch and a small hike on the island our "Divemasters in Training" had to do their night dive. When the sun went down, four of us, equipped with flashlights, took the boat to a spot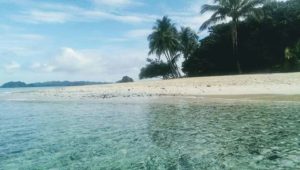 very close to the main island and explored the beauty of Coiba's underwater world at night. We loved it, our captain and assistant did not. "Why can't you dive during the day?!", was Eddie´s complain, imagining ankering the boat and swimming back to the island in the dark, the time when island-crocodile Tito and his friends visit the beaches. But observing the creatures underwater during their "nightly" routines was, at least for the four of us – one of the highlights of the trip and, in the end, nobody was eaten by a crocodile. A delicious dinner, a couple of beers and glasses of wine were the perfect end to an incredible day of diving.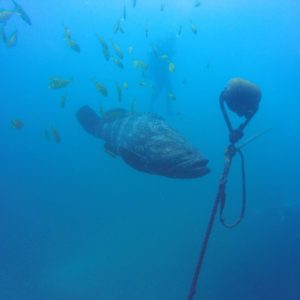 The next day we took off to Isla Jicarón, one of the southern parts of Coiba National Park and very particular. To a lot of us, due to its location far off Santa Catalina, the dive sites were new, which was why everybody was quite excited about the upcoming dives.
The dive sites 'La Catedral', in English 'The Cathedral', and 'La Lavadora', 'The Washing Machine', are known for strong currents and spectacular formations of volcanic rock. They are located right next to each other and, as you might have imagined already, the strong currents underwater made us drift dive and spin around like in a washing machine; a lot of fun.
With these last dives and a long boat ride back to Santa Catalina our staff trip came to an end. We enjoyed every moment to the fullest. Thanks to everyone who joined and made it an amazing experience.
https://panamadivecenter.com/wp-content/uploads/2017/11/PDC_Logo_Horizontal.png
0
0
Camilo
https://panamadivecenter.com/wp-content/uploads/2017/11/PDC_Logo_Horizontal.png
Camilo
2017-06-08 22:14:37
2017-06-09 15:58:19
Hammerheads, night dives and Jicarón