My divemaster training (DMT) at PDC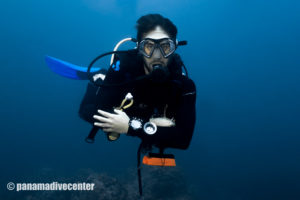 Four months of hard work and a lot of fun are coming to an end. My divemaster internship in Panama Dive Center (PDC) finally ended and I will soon be a certified divemaster, a new Pro member! The enlightenment does not go as far as to having a white bright aura around me but it feels really great. Yes, I made it! Four months of learning, swimming, diving, dealing with clients, filling tanks, loading up boats, fixing equipment, workshops, practical skills and much more, all of that at the rythm of the divemaster song – despacito, suave suavecito, pasito a pasito!
I arrived as a recently certified Advanced Open Water diver with hardly 30 dives and still not completely confident about how to set up equipment and will leave as a divemaster with 115 dives and ready to guide, assist in courses, fix equipment and much more. Anything I could say would not make justice to the experience. Four months learning from great professionals in their day to day work, being part of it. Joy, fun, laughters, but also occasional frustration and exhaustion. All a person can ask for a truly unforgetable experience. This has been a long, exciting, challenging and very fun process that could only be possible thanks to all the wonderful crew that I had the chance to work with.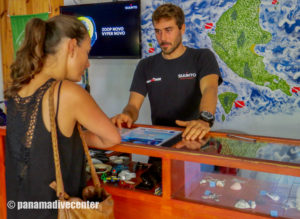 I am truly grateful to Camilo and Sabina, the owners of PDC for giving me the opportunity of being part of their team, sharing the passion of their lives with me and creating a very personal experience. Camilo has been my mentor during this 4 month journey across the wonders of professional diving. A lot of what I know now about diving is thanks to him. He has always performed with endless patience, optimism and great vibes and his trust in me has always been immense, which I really appreciate. If you end up in the right place with the right people, like I did, any 3 week divemaster course will never get even close to the quality of this experience. I have had not one but four professionals from whom to learn. My success in the course is not only the result of the great work of Camilo, my main instructor, but also de work of the entire team of PDC instructors: Sabina, Kim and Sofie. I have had the chance to watch their outstanding professionalism and learn from it every single day during these 4 months, both at the dive center and in our playground, the underwater world. Moreover, I shared this very enriching experience with another lovely divemaster trainee, Anais, and a team of other fantastic students – Lu, Katrin, Nina, Ari and Ani, that collectively made this experience worth a thousand regular courses. I have learnt something from every single one of them. I will remember Sabina for her oustanding teaching and organizing skills;  Kim for her rigorous and methodical work and her great humor; Sofie for her contagious enthusiasm and craziness; Anais for all her support and cheerful attitude during all our exercises and time together; Ani for her creativity and help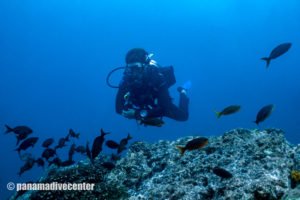 and every single one of them for their valuable and unique ideas, opinions and ways of working, apart from all the fun we had together! And of course, although not a member of PDC, I also owe my success in the course to my girlfriend and PADI scuba instructor Alba. Not every one is as lucky as I am, having an instructor at home during his training! She is one of the best instructors I have met and I have learnt a lot from her, apart from benefiting from her continuous support and love.
From our fun scenarios for the Emergency first response course where someone would for example fake electrocution, to our assistant role during fun dives. From our Rescue exercise number 7 – which took quite some time until we performed it at demonstration level, namely, despacito, suave suavecito, pasito a pasito, to almost drawning during our swimming skills! Equipment exchange, discover local diving, search and recovery, night dive, discover scuba dive, snorkel guide…a looooooong list of tasks, tests, exercises that challenged us, exhausted us and most important, made us all laugh and enjoy. I am leaving a group of life-lasting mentors and friends.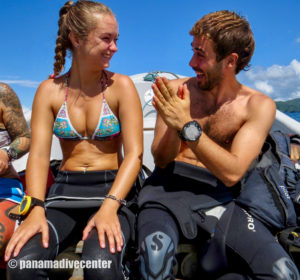 I will miss Coiba and its wonders. The long boat rides under a burning sun or under a stormy apocalyptic sky, either of them equally amazing. The exciting dives under a strong current that brought to us the magic of the sea in all its splendour: hugeschools of jacks, snappers, barracudas, grunts, stingrays, eagle and devil rays… The more relaxing dives and all the wonderful reef inhabitants: gigantic moray eels, octopuses, frog fish, sea horses, triggerfish, and all the colorful fish like the moorish idol, the barber fish, parrot fish, angelfish and all the different kinds of puffer and porcupinefish. The unforgetable encounters with the lazy white tip sharks, the elegant turtles and the impressive humpback whales breaching the surface and delighting us with their magical songs. Pure, concentrated awesomeness.
I will also miss Santa Catalina. The beautiful Estero beach, the quietness and clean air, the sound of the waves at night and of the birds in the morning, the 'carros' bringing loads of veggies and fruit, the mango and avocado trees, all the coconuts we used to pick up on the beach, the multiple pot luck dinners we shared with friends, the surfers riding the waves…four truly unbelievable months!
It is over now and the only thing left is to wish a similarly amazing experience to all newcomers at PDC. Enjoy it. Take the opportunity to immerse yourself in the experience. Take from them and give back! Thank you all PDC members for an awesome time!
https://panamadivecenter.com/wp-content/uploads/2017/09/P1030800-scaled.jpg
1920
2560
Sabina Schreck
https://panamadivecenter.com/wp-content/uploads/2017/11/PDC_Logo_Horizontal.png
Sabina Schreck
2017-09-10 21:31:41
2017-09-11 15:58:43
My divemaster training (DMT) at PDC