Beach Clean – With A Little Help From Our Friends
For our regular beach cleans we usually focus on the town beach as it is easily accessible from the shop – and is always in plenty of need! However, having noticed excessive and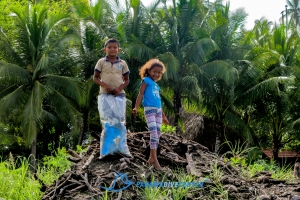 increasing quantities of plastic and waste on Estero beach (the main surfing beach in Santa Catalina), last weekend we decided to organize a bigger operation to go down there and tidy up.
Our friends Michelle from La Buena Vida (a local hotel) and Ollie (owner of Sup Santa Catalina) agreed to help us to transport people and rubbish to and from the beach, enabling us to facilitate the clean. Michelle also spoke to kids from town who were previously keen to get involved with events like this. We arranged a post-clean feast of empanadas and fruits and we were good to go!
We had a good turnout of kids and adults, but the task ahead of us was mammoth! The thing that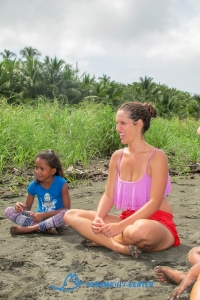 struck us was the incredible amount of micro-plastics. It would be a near impossible task to clear all these tiny shreds. However, our team did a great job. We filled 10-15 large bags between us – considering that these were mostly filled with small items / pieces this felt like a job well done.
It was beautiful to see the kids engaged in the task and helping for a long time without getting distracted! Afterwards we had a short discussion about why what we had done was important and it was uplifting to see their understanding of the issues of pollution – especially since this is not the case with many older members of the community.
After the beach clean we had a short yoga session led by Michelle before delving into our empanadas and finally having plenty of time to play / swim together on the beach. One of the nicest things about the day was coming together as a community, having the chance to enjoy the company of others from the town and working together to make our home a better place.
A big thank you to everyone that helped us with all aspects of the clean. We hope to keep bringing the community together in the future and hopefully see an ever-growing team of beach clean heroes!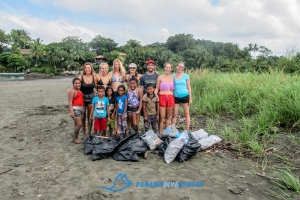 https://panamadivecenter.com/wp-content/uploads/2017/11/PDC_Logo_Horizontal.png
0
0
Camilo
https://panamadivecenter.com/wp-content/uploads/2017/11/PDC_Logo_Horizontal.png
Camilo
2018-07-10 14:41:11
2018-07-10 14:42:13
Beach Clean – With A Little Help From Our Friends