This time of the year is particular in Santa Catalina.  We have special visitors who, like every year, visit Coiba during the months of July-September to delights us with their majestic and beautiful presence. These friends of ours, with whom we share the wonders of Coiba for a few months, are the humpback whales.
People know that during these months Coiba offers the possibility to see these amazing creatures. They come to our dive center asking us to confirm whether they have the chance to see them underwater or at least on the surface during our boat rides. We can see and feel their excitement about that possibility and we all in Panama Dive Center obviously share that excitement too. Whales have that effect on us. Their beautiful, powerful and secret nature inspire our imaginations! When I see the excitement in our clients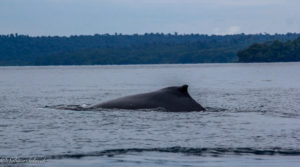 about the possibility of these encounters and their smiles, exclamations and expressions in absolute awe when it actually happens, I think to myself: "this is what I live for". When I see their happiness after a dream becomes true, a dream that gets them closer to nature, I feel truly realized.
Although sightings underwater are extremely rare events, seeing them on the surface throughout the day happens often in these months. It sometimes begins with someone spotting a jet of water emerge from the ocean up into the sky. At other times we see a group a whales swimming on the surface and yet, at event other times we are lucky to witness the full power of these wonderful creatures in one of their spectacular jumps out of the water, which is known as breaching! In any event, what follows is always the same very loud "whales!!!!!" from whoever sees them first, and then everyone stands up too excited to remain calm or quiet. If the whales are visible, everyone shouts expression of joy and excitement. If whales disappear, then everyone stays quiet and still, fully alert and scrutinizing the surface, waiting for the next blow. The joy of seeing these massive creatures is thrilling.
I haven't been one of the extremely lucky persons seeing them underwater yet, but an instructor who recently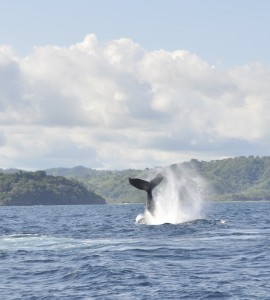 saw them while diving described to me the experience, and I got a glimpse of the magnitude of the encounter. I saw a special light on his expression while describing me the event. I found the respect and love that he professes to these animals really contagious. I pictured myself there and how amazing that must be. He described them to me as something from another world, his eyes almost popping out while telling me the size of their fins, their elegance, their mysticism, their power. They truly are from another world.
What are you waiting for? Come to Santa Catalina and visit Coiba, where you can enjoy the beauty and mystery of these beautiful animals. In the meantime, if you want to know more about humpback whales, visit our blog next week for another entry full of interesting facts, photos and videos about these mysterious creatures! Let us share the magic of the ocean! We are waiting for you!
-By Rodrigo Villarino
https://panamadivecenter.com/wp-content/uploads/2017/11/PDC_Logo_Horizontal.png
0
0
Camilo
https://panamadivecenter.com/wp-content/uploads/2017/11/PDC_Logo_Horizontal.png
Camilo
2017-08-24 19:56:32
2017-08-24 20:13:42
Rainy Season Visitors – Part 1