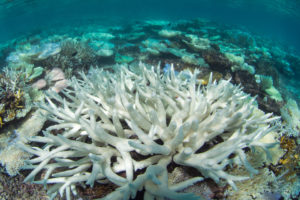 En cette période d'ouragans dévastateurs comme Harvey et Irma, de feux de brousse qui se répandent dans le nord-ouest des États-Unis et un président de l'une des nations les plus puissantes du monde qui prétend encore que le changement climatique est un canular, il est plus important que jamais de sensibiliser la population le plus possible sur les événements climatiques et de se pencher sur les efforts que chaque individu peut fournir pour protéger notre écosystème unique et en danger. En tant que plongeur, quel que soit votre niveau, vous devriez agir en tant qu'ambassadeur et protecteur de nos océans.
Un faits importants à comprendre pour les plongeurs comme pour les non-plongeurs est que ce loisir n'interfère pas avec la nature à un niveau plus élevé que toutes autres activités pratiquées à l'extérieur, comme la randonnée, le ski ou l'alpinisme. La plongée aurait même un impact plus petit que les sports mentionnés ci-dessus – dès le début de votre initiation à la plongée, l'instructeur se doit de vous fournir des directives et des techniques sur la façon de préserver le monde marin et de quelle manière interagir avec ses habitants. Alors que cette sensibilisation n'est  pas obligatoire avant de commencer une première randonnée et la plupart des instructeurs de ski ou d'alpinisme ne fournissent pas nécessairement d'informations quant à la façon de protéger le terrain sur lequel ils pratiquent.

Désoxygénation de l'océan et blanchiment des coraux
La désoxygénation de l'océan est défini par la perte d'oxygène de l'océan. Alors que les études montrent qu'au cours du 20ème siècle, les niveaux d'oxygène ont continué de diminuer en raison du réchauffement de la surface, il existe une prédiction d'une perte supplémentaire de 3-6% des concentrations d'oxygène au 21ème siècle. Physiologiquement, l'eau chaude ne peut contenir autant d'oxygène que d'eau froide, de sorte que lorsque les surfaces des océans chauffent en raison du changement climatique, elles provoquent une perte directe d'oxygène. Mais liée avec l'élévation de la température de la surface on observe aussi un changement de densité de l'eau qui est maintenant plus chaude qu'auparavant. L'eau froide dans les profondeurs est beaucoup plus épaisse que l'eau chaude de la surface, ce qui rend plus compliqué le mélange des deux couches. En fin de compte, en plus de chauffer l'eau en surface, et donc de baisser sa contenance en oxygène, le réchauffement climatique réduit également l'absorption de la quantité d'oxygène par les couches de surface.
Le processus connu sous le nom de blanchiment des coraux est induit par l'augmentation des températures de l'eau. La collaboration entre les coraux et les algues est très spécifique : les coraux ont des exigences en lumière très élevées, qui émergent de la symbiose avec les algues, qui vivent dans les cellules du corail et leur fournissent également leurs couleurs vives. Les déchets métaboliques produits par le corail servent d'engrais pour les algues et, en retour, ils reçoivent une partie des produits de photosynthèse végétative. Beaucoup de sous-espèces de corail dépendent de cette alimentation principale étant donné que le plancton seul ne les nourrit pas suffisamment. Certaines conditions, comme les températures élevées de l'eau, peuvent provoquer des rejets de corail dans les algues, et donc une perte de leur couleur et entrainer la mort par la famine.
Diminution des requins et des baleines – et l'impact sur notre climat
It's no secret that the numbers of big marine predators like sharks are constantly decreasing. But recent studies
Ce n'est plus un secret, le nombre de grands prédateurs marins comme les requins diminue constamment. Les études récentes de différentes organisations de conservation marine présentent une nouvelle conséquence de cette diminution. Le rétrécissement des poissons prédateurs par la pêche, l'affinage de la biomasse des petits poissons entraine un sur développement du zooplancton, ceci produit une augmentation générale du CO2  et décime une bonne quantité de phytoplancton dont le rôle est essentiel pour l'alimentation de ces poissons et l'apsorbtion du CO2. De plus, le phytoplancton, tel que démontré dans de multiples études, est actuellement responsable de 70% de l'oxygène terrestre.
Les baleines en se nourrissant à une profondeur allant jusqu'à plusieurs centaines de mètres et en déféquant au niveau de la mer, transportent des sources essentielles de fer et d'autres nutriments à travers des couches d'eau qui, sans cette activité, ne se mélangeraient pas et ainsi améliorent la croissance du phytoplancton. Le lien entre la diminution des populations de baleines et la désoxygénation de l'océan est donc évident.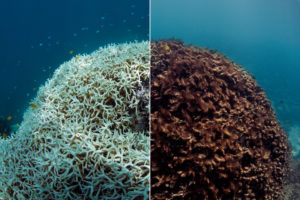 En tant que plongeurs, nous devrions donc essayer d'afficher des comportements exemplaires lorsqu'ils sagit d'interagir avec l'environnement et les organismes vivants que se soit au-dessus ou sous la surface  de la mer. afin que ce loisir continué à avoir un impact minimum sur l'environnement. Des gestes simples comme l'installation de bouées afin d'éviter au maximum l'utilisation des ancres par le bateau qui peuvent endommager les fonds marins.
Pour ceux qui souhaitent faire un pas supplémentaire vous pouvez consulter les sites suivants:
https://www.carbontax.org/whats-a-carbon-tax/.
Alors que l'Amérique du Nord commence à évaluer les dégâts infligés par Irma sur son chemin à travers les îles des Caraïbes et la Floride continentale, j'espère et prie pour les vastes paysages sous-marins et ses habitants, qui ont dû supporter cette même tempête sans aucun genre de protection. Espérons que ces précieux sanctuaires marins ont réussi à maintenir un état qui leur permettra de se régénérer et ne souffrirons pas trop des dommages qu'ils ont et devront supporter.
-by Nina Berti Sep 2017
Sources
Keeling at al. 2010
IPCC 5th Assessment Report
https://www.nabu.de/natur-und-landschaft/meere/lebensraum-meer/02888.html
http://www.nationalgeographic.org/activity/save-the-plankton-breathe-freely/
https://www.sharks.org/blogs/science-blog/sharks-in-decline
https://theconversation.com/how-overfishing-and-shark-finning-could-increase-the-pace-of-climate-change-67664
Photos: The Ocean Agency
http://panamadivecenter.com/wp-content/uploads/2016/11/Logo-Fondo-Transparente.png
0
0
Sabina Schreck
http://panamadivecenter.com/wp-content/uploads/2016/11/Logo-Fondo-Transparente.png
Sabina Schreck
2017-09-11 16:11:20
2017-09-25 21:31:11
Le changement climatique du point de vue des plongeurs