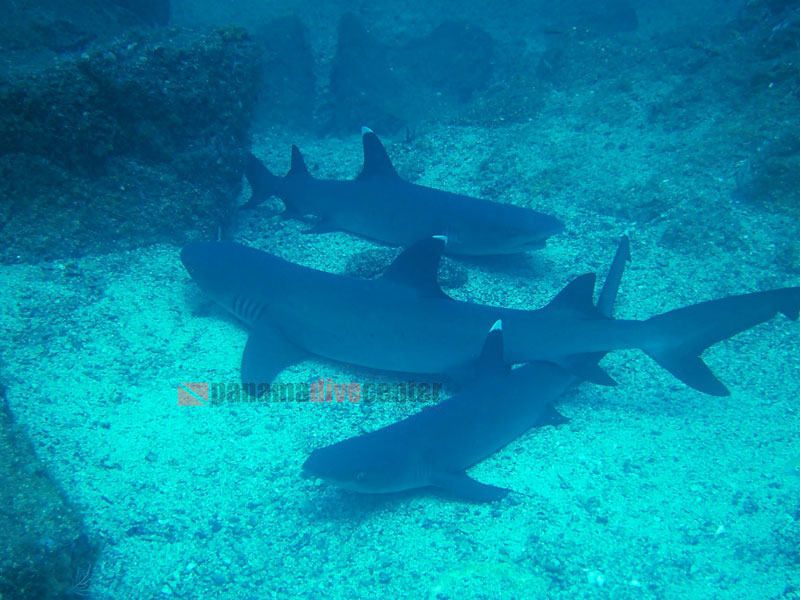 Multi-day Diving with Catering
If you are interested in diving for two or more consecutive days and want to stay on Isla Coiba instead of going back and forth between the park and the mainland, let us handle all the logistics for you. Sleep in one of the dorm-style cabins at the ranger´s station and worry about nothing except being on time for meals and diving. Included in your dive package will be your own chef, all your food and drinks, equipment and, of course, the diving (9 dives). For an additional $65 per person you can even add a night dive which will be done on one of the evenings (minimum three people). By the glow of your torch, you may get the chance to see white-tip reef sharks and blue fin trevallies hunting, octopus and lobsters out and about or maybe a guitar shark hanging out in the sand.
This trip is suitable for groups of friends and ideal for family trips, reunions or parties. We ask for a minimum age diver of 12. Please contact us if you can´t make it on the scheduled days (if there are any) and you want to inquire about a date of your choice, if you only want to join for two days, or if you´d like us to send us a more detailed description of the tour. If you are ready for your adventure just  BOOK NOW to reserve your spots. 
Price: $660 (for three days) / $440 (for two days)
Entrance fee to ($20) and overnight stays in($20 per night) the park are not included.
Upcoming Trips:
4th – 6th of December 2017  BOOK NOW
New Years Trip (price $730):
31st December – 2nd of January 2018 FULL 
Please let us know if you are interested in other dates.
Special Trips
If you are an adventurous, experienced group of divers, and feel like going on this one exclusive trip that will take you off the beaten track, this is the thing for you. Sites to explore include the beautiful islands of Jicarón, Jicarita and Montuosa, all a bit further away and thus requiring special preparation. Included in your dive package will be your own chef, all your food and drinks (including some wine and beer for dinner),  equipment and, of course, diving. Contact us for more information.
This post is also available in: Englisch Französisch Spanisch